Are you a soon-to-be mama looking for adorable nursery ideas?
If so, you'll love these 20 llama nursery ideas!
Llamas are the perfect option to create a unique and stylish nursery with their fuzzy fur and big personalities.
Whether you're seeking inspiration for decorating your baby's room or putting together the perfect blanket bundle – we have some great solutions that will wow your guests and make those first months of parenting more enjoyable.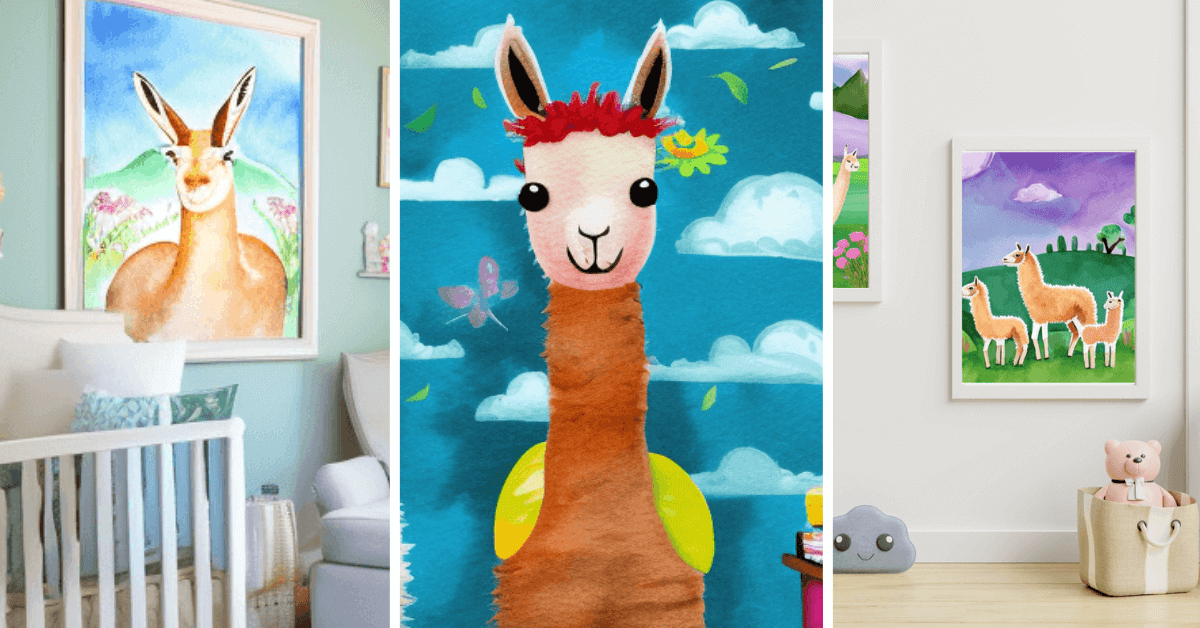 From wall art to bedding picks, read on to get inspired by some of our favorite nursery ideas!
Creating a llama-themed nursery for your little one is a great way to add some fun and whimsy to their room.
Here are 20 unique llama nursery ideas:
1. Choose cute llama wallpaper or wall decals for the walls of the nursery.
Adding llama wallpaper in a nursery can bring sweetness and joy to the room.
It's such an easy way to add a unique charm to the space as well, especially if you choose designs that feature bright colors and cheerful images.
For best results, apply the wallpaper with a foam roller and follow the manufacturer's instructions carefully to avoid bubbling or tearing the paper.
With some simple preparation, including cleaning the walls and taping off any corners or trim, you'll be able to successfully complete your project within no time!
We love this adorable llama peel-and-stick mural we found on Etsy!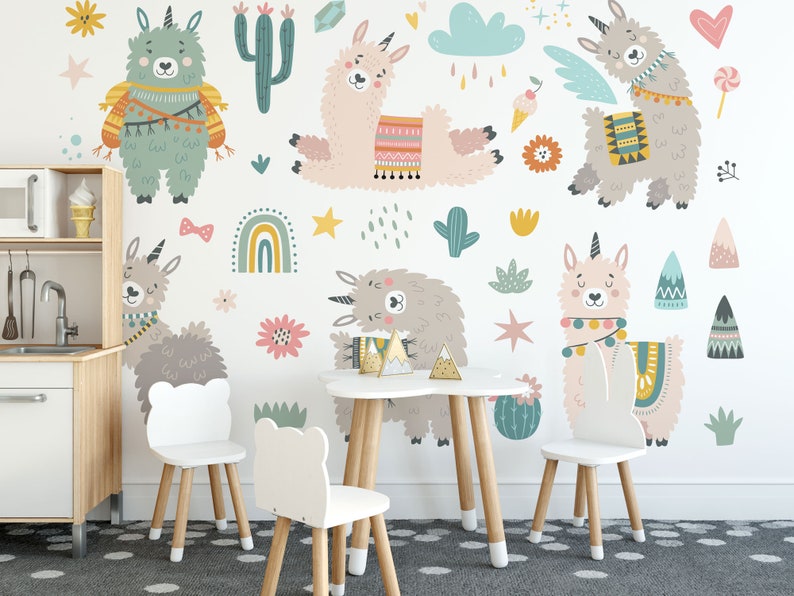 Lama Nursery Removable Vinyl Mural / Peel and Stick Lama
from: Etsy 

Alpaca Wallpaper Mural
from Project Nursery 
2. Place an oversized llama plush toy in the corner of the room.
Adding an oversized llama plush toy to the corner of your nursery is a great way to bring some whimsy and fun into the room.
Not only will it make a great conversation piece, but it will also become a beloved friend for your little one.
My daughter loves her llama plush toy so much that she takes him everywhere with her! He's been on car rides, camping trips, and even to the grocery store.
We've had him for years now and he still looks as good as new.
I highly recommend adding an oversized llama plush toy to your nursery – you won't regret it!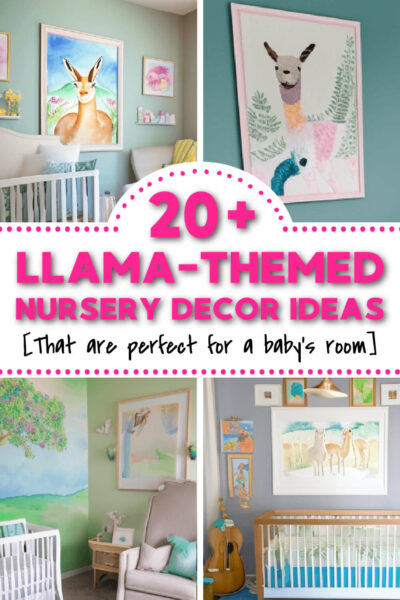 3. Hang up a boho-style llama mobile above the crib.
A boho-style llama mobile is a great way to add an adorable, whimsical touch to your baby's nursery.
Not only will it provide a visually interesting focal point above the crib, but it can also help create a peaceful sleeping environment.
Whether you choose a colorful version full of pom-poms or a more simplistic gender-neutral design and color, these unique mobiles will surely become one of the cherished items in your baby's bedroom.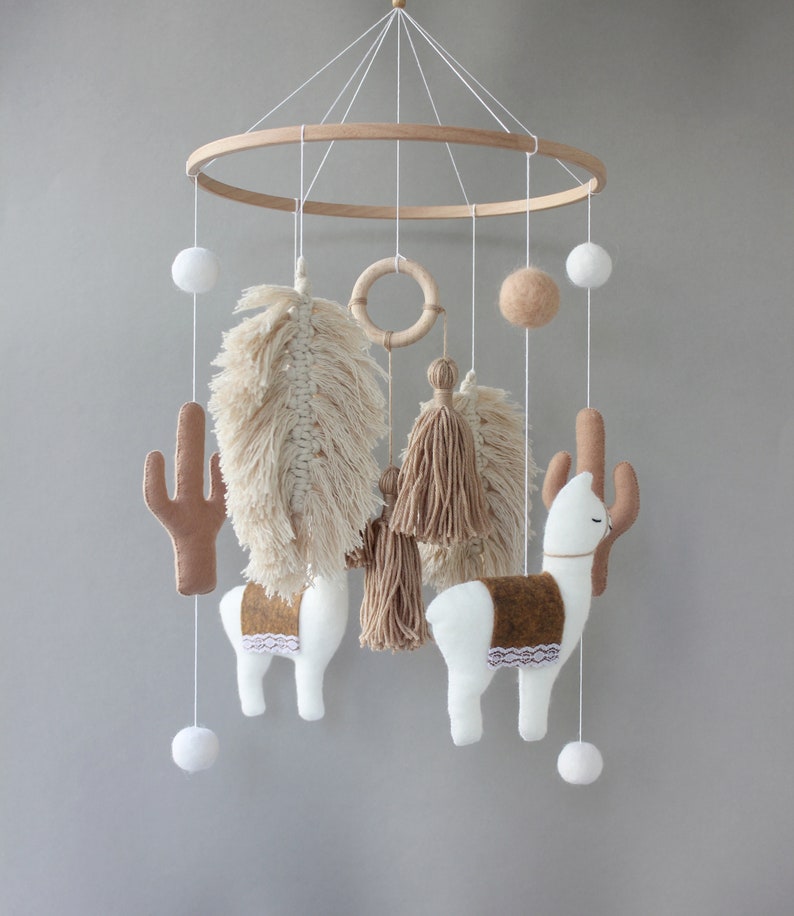 Baby Mobile Llama Mobile Cactus Mobile Cactus Nursery Alpaca
from: Etsy 
4. Create an accent wall with llama wall art prints.
Accent walls are a great way to add a splash of personality to your home.
Adding llama wall art prints is sure to give your space some pizzazz!
Whether you're looking for something more whimsical or classic, there's a llama print out there that will fit right into your design.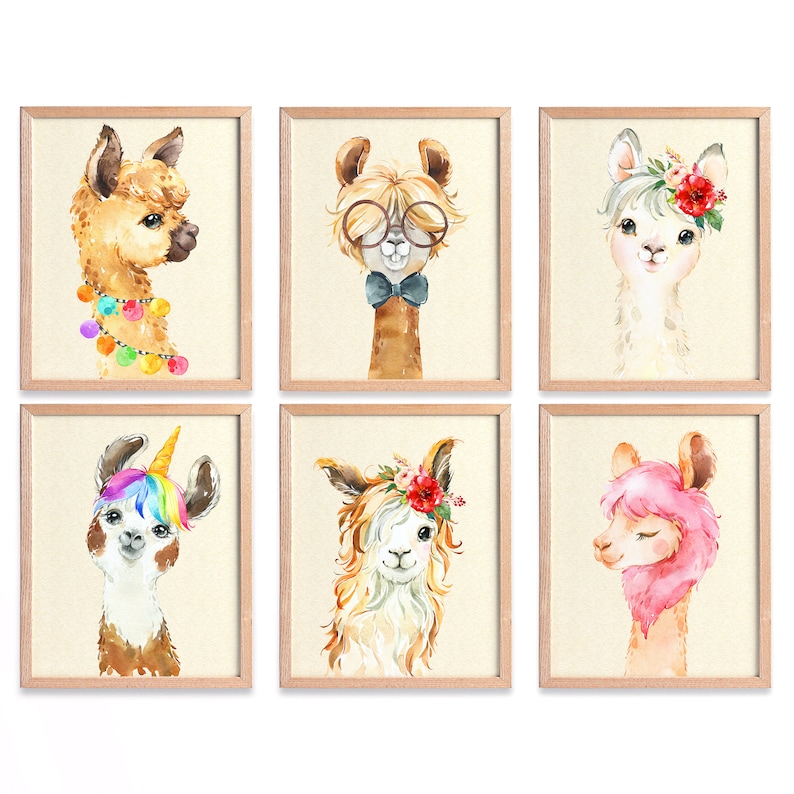 Funny Llama Nursery Room Prints Set of 6 Nursery Wall Art
from: Etsy 
Hang several small prints together in a row or choose one large piece to make an eye-catching focal point.
Combining different sizes and compositions will give your accent wall extra depth and interest.
Play around with color and texture—the options really are limitless when it comes to livening up your living space with wall art featuring these adorable animals!

5. Incorporate some cactus decor into the room, such as potted plants or wall decals.
If you're looking for llama nursery ideas, incorporating some cacti-themed decor is a must!
Adding potted plants or wall decals with cacti designs can give the room an extra cozy desert vibe, allowing your llama-themed nursery to be both fun and inviting.
Not only are cactus decorations full of character, but they also require minimal maintenance to keep them in tip-top shape and will add a splash of life to the room.
These are such cute cactus pillows for the nursery!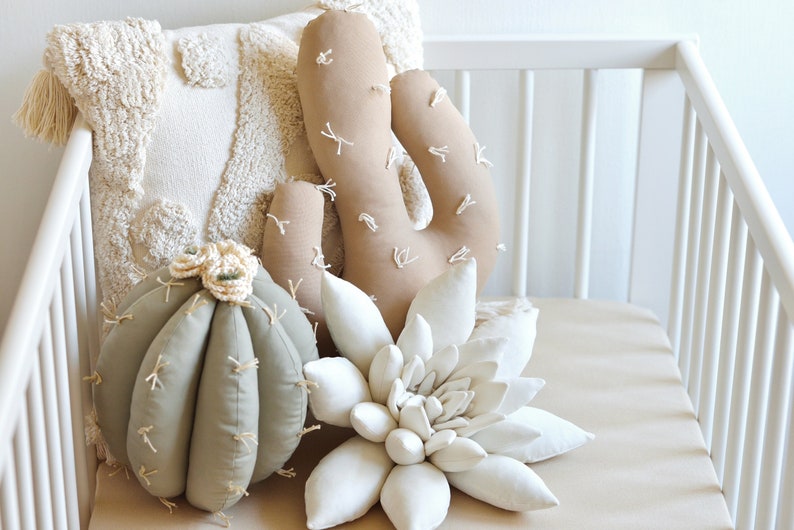 3 Cactus Pillow Set of 3 Cactus Pillows Cactus Nursery
from: Etsy 
6. Place a colorful rug on the floor with a pattern featuring llamas and cacti.
A llama nursery can be made extra fun and unique with the addition of a rug featuring llamas and cacti.
With its bright colors, this llama nursery rug can help invigorate your baby's playtime and make it more entertaining.
Not only will the llamas and cacti add eye-catching beauty to any home, but the rug is also durable enough for everyday heavy use.
The combination of llamas, cacti, and vibrant colors will transform your llama nursery into something completely magical.
Give your llama nursery an extra boost with this memorable llama and cactus-patterned rug.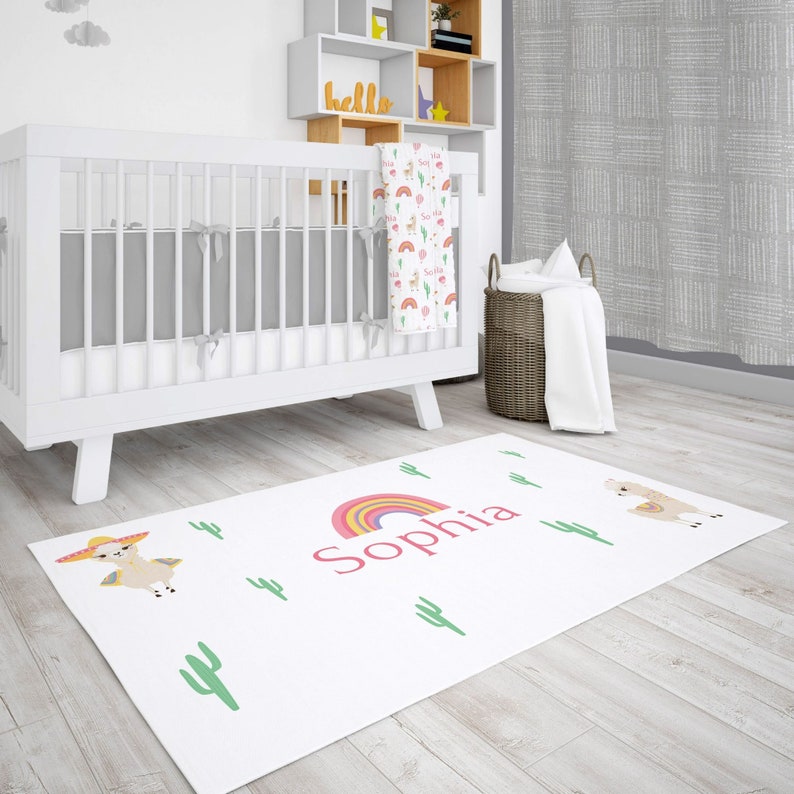 Personalized Llama Nursery Rug. Enhance Your Kid's or
from Etsy 
7. Use pillows and blankets with cute llama designs on them for extra comfort and style in the nursery.
llamas have recently become quite the popular theme for nurseries – why not add some llamas-themed comfort and style?
Pillows and blankets with llama designs are an easy, fun way to accessorize your nursery.
These comfy accessories will add a touch of personality to any kid's room.
Not to mention, llamas are irresistibly cute so they'll look great no matter what kind of decor you go with.
From more classic llama designs to modern prints and colors, there are plenty of ideas out there so that you can find something perfect for your space.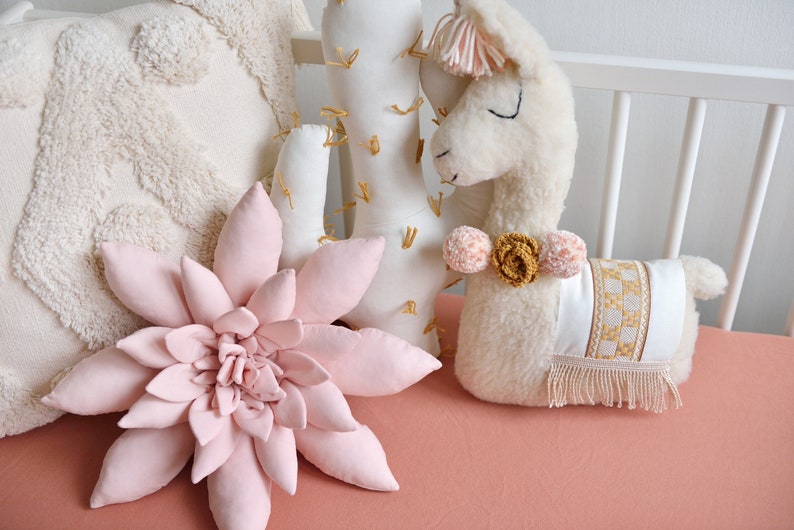 Set of 3 Decor Pillows Llama Succulent Cactus Pillow Llama
from Etsy 
8. Add some storage baskets featuring fun llama designs to keep toys and other items organized in the room.
Looking for llama nursery ideas? Adding some llama-themed storage baskets is a great way to keep toys and other items in a room organized while also injecting fun llama designs.
The llama pattern can be used as an accent piece, or it can be used to help create a unique llama nursery theme.
Plus these llamas come with useful functions as storage; with their large size, high durability, and neatly laundered look, you'll be sure to appreciate them for a long time.
So if you want to help bring llamas into your home in a cost-effective way, look no further than llama storage baskets!
9. Hang up some string lights with tiny llamas on them for extra lighting in the evening hours when it's time for bedtime stories or lullabies!
Transform your nursery into a llama-themed oasis with llama string lights!
Not only do these lights emit an inviting ambiance, but they also add some extra illumination during evening hours when it's time to settle down.
Whether you use the llama string lights while reading bedtime stories or singing lullabies, your little one will love snuggling up with friendly llamas here in their own bedroom.
They make a unique and meaningful addition to any llama nursery idea and add the perfect element of whimsy to any kid's room.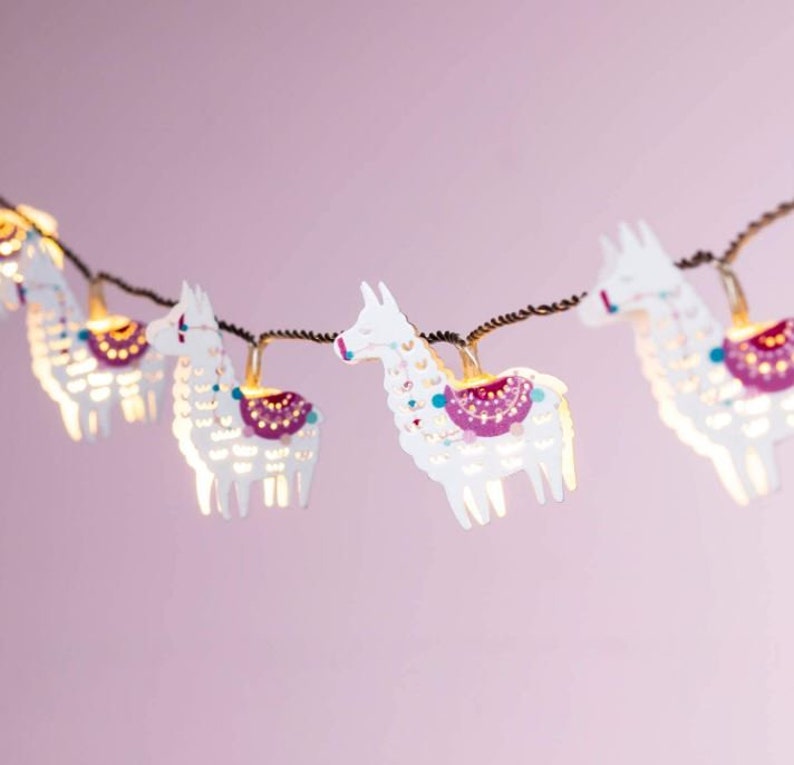 Alpaca String Lights 6ft LED Alpaca String Lights 10 LED
from Etsy 
10. Place a lamp shaped like a llama in the corner of the room to light up your little one's space at night!
Adding llama-shaped lamps to your child's nursery can be a fun way to light up that special space at night.
They are practical and bright and can also be a conversation starter when you have guests over.
Say goodbye to dull lamps and give the llama nursery idea a try!
It's sure to bring a smile to your little one's face every time they come into the room.
11. Creating a Cozy Environment – Think about adding a rocking chair or hammock to create a quiet space  
Creating a cozy environment for your llama nursery is essential for providing the best care.
A great way to do this is by adding a rocking chair, which can create a quiet space for bonding and nurturing.
For example, we added a rocking chair to our nursery, and it was an amazing addition!
My babies loved snuggling up in the chair while I read them stories or sang lullabies.
It was also a great spot to just relax and watch them play.
12. Invest in Quality Bedding and Accessories – Buy soft sheets, pillows, and blankets that your child will be comfortable with  and that match your alpaca nursery decor
If you're looking to create the perfect llama nursery that is both comfortable and aesthetically pleasing, investing in quality bedding and accessories is key.
Soft sheets, cozy pillows, and snuggly blankets in colors that complement your llama nursery decor can go a long way to creating a welcoming atmosphere for your baby.
When choosing these items, consider how they will feel against your child's delicate skin in addition to how well they coordinate with the llama theme of your nursery decor.
Investing in high-quality items ensures both comfort and long-term wearability when used correctly – great for budget-conscious parents!
13. Incorporate Natural Elements Into Your Design – Add some plants to brighten up the nursery 
Brighten up llama nurseries with some plants!
Plants provide a natural, vibrant ambiance to any room, and llama nurseries are no exception.
You can mix and match the colors of the plants and accentuate them with indoor flowerpots or a unique llama-inspired planter like an Alpaca pot.
Planting some greenery can improve air quality and create beautiful scenery in your llama nursery, leading you to a lifetime of llama love!
Check out this adorable llama planter that is perfect for adding succulents to your nursery decor.

Cute Live Succulent Planter Llama Gift Trending Llama Gift
from Etsy 
14. Make Sure Everything is Secure – Consider safety features such as tamper-proof electrical outlets, furniture straps, and window guards
When setting up your llama nursery, it's important to ensure everything is as safe and secure as possible.
Don't forget to consider easy-to-install safety features such as tamper-proof electrical outlets, furniture straps to help prevent tip-overs, and window guards for both security and ventilation.
Taking these extra steps can help reduce the chances of accidents from occurring, giving you peace of mind when seeing your llamas frolic around in their comfy new home.
15. Make sure there's enough light – install dimmable lighting fixtures so you can adjust the brightness depending on what activity is happening (e.g., reading stories before bedtime)
Creating a llama theme nursery should include making sure the space is well-lit.
The right dimmable lighting fixtures can help you control the brightness of your nursery depending on the activity – brighter when it's time to play, and more subdued when it's time to relax and read stories before bedtime.
With easy-to-use dimming features, you can easily adjust your nursery lighting without having to do any extra work every night.
Investing in quality lighting items now will pay off for years to come!
16. Create a cozy book corner and keep a book basket next to the rocking chair for easy bedtime reading.
Setting up a cozy reading corner in your llama nursery is a great way to foster a love of books and spend time together.
Having everything you need right there makes it so much easier to get through a few stories before bedtime.
A book basket is a great choice for a small baby nursery.
The book basket is also convenient for quickly grabbing an extra story or two if need be!
These are some of our children's favorite llama books that I used to keep in their book baskets:
17. Consider adding items made from natural llama wool to make the space feel more authentic.
Consider adding items made from natural llama wool to make the space feel more authentic.
For example, you could add a cozy llama-wool blanket or a handmade rug to the nursery.
Not only will this add a unique touch to the room, but it will also provide a comforting and inviting atmosphere.
You could even find llama-themed clothing for your little one and hang them up in the room.
This can be a great way to nurture your child's creativity and sense of style.
With these ideas, you can create an unforgettable nursery that is sure to bring joy and comfort for years to come!
When designing our kid's nurseries we always tried to look into the future and incorporate items that we knew our kids would love as young toddlers.
This is a beautiful baby blanket made from alpaca wool that I found on Etsy: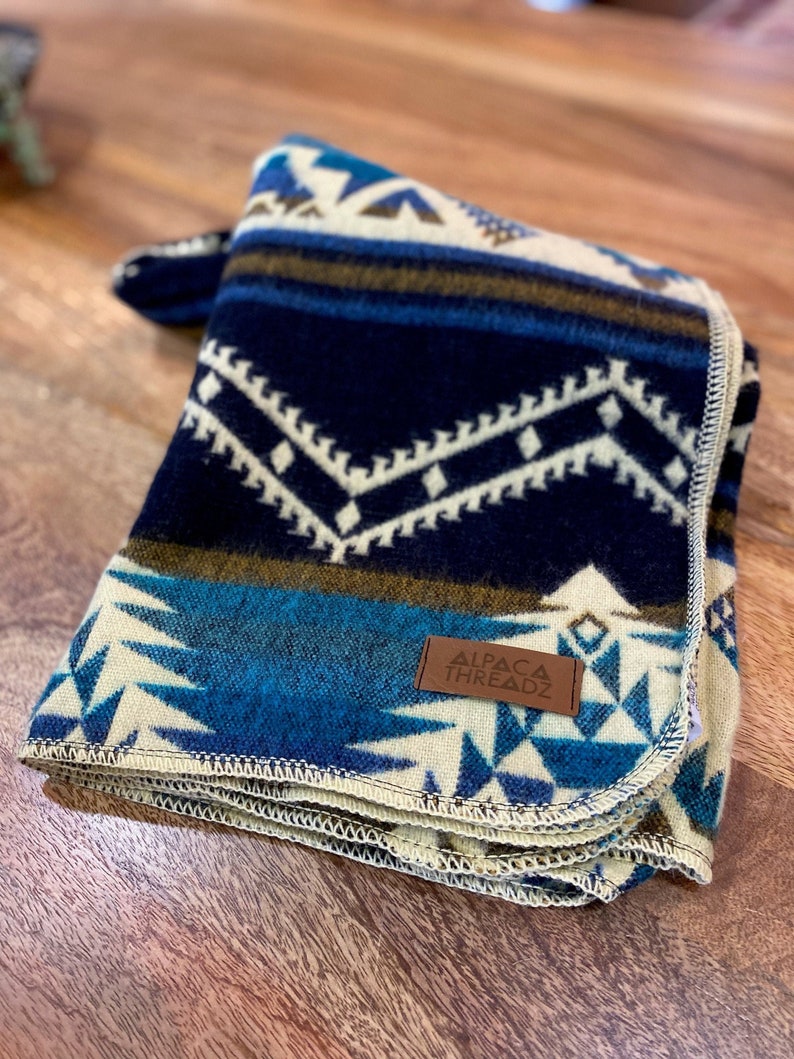 Baby Blanket Alpaca Wool Blanket From Ecuador Baby Shower
from: Etsy 
18. Add a cute llama clock to the room to keep track of time during late-night feedings.
Llamas are a unique addition to any nursery, and adding a llama clock is an especially fun llama nursery idea.
Not only does it provide your little one with a cute and cuddly decoration for their room, but it also provides you the convenience of quickly being able to check the time during those late-night feedings.
With its classic design and joyful llama look, a llama clock is sure to bring some extra joy into your nursery.
19. Paint the walls a soft whimsical pastel color.
Llamas are typically associated with South American cultures and their vibrant colors, so consider using llama nursery ideas to help inspire your wall color choice.
Soft and whimsical pastel shades will bring a splash of cheer and sophistication to your llama-inspired space, helping to create a bright and inviting feeling that all llama fans can appreciate.
Whether you go for baby blues or just about any other pleasing hue, the addition of a cheery pastel color on your walls is sure to instantly transform any nursery into something special.
20. One way to make your llama theme nursery more gender-neutral is to incorporate gray and blue tones into your design.
To make your llama-themed nursery gender-neutral, consider incorporating both gray and blue tones into the color scheme
These colors create a calming atmosphere that both genders can feel comfortable in, while still being bright and inviting.
Llama accents such as llama art, wallpaper, or even llama print bedding can be used to add touches to this playful theme throughout the nursery.
By mixing and matching thoughtful details like these with more neutral shades of gray and blue, you will have created an adorable llama-themed nursery that delights both parents and children alike!

Helpful tips for designing a baby nursery
Choose a suitable room: The nursery should ideally be a quiet, peaceful, and well-ventilated room, away from high-traffic areas.
Plan the layout: Plan the placement of the crib, changing table, dresser, and other furniture. Make sure there is enough space to move around and that all furniture is safe for babies.
Choose a color scheme: Choose a color scheme that is soothing and calming. Consider using pastel shades of blue, pink, yellow, or green.
Select appropriate lighting: Choose lighting that is soft and dimmable, so that you can create a relaxing atmosphere for your baby.
Invest in a good quality crib and mattress: Choose a crib that meets the latest safety standards, and select a firm, supportive mattress that fits snugly in the crib.
Buy bedding and accessories: Purchase bedding and accessories that match the color scheme and theme of the nursery. Make sure they are made of breathable, non-toxic materials.
Get a comfortable chair: Invest in a comfortable chair that you can use for feeding, cuddling, and rocking your baby.
Install baby-proofing features: Install baby-proofing features such as cabinet locks, electrical outlet covers, and baby gates.
Consider storage options: Purchase storage solutions such as baskets, shelves, and drawers to keep the nursery organized.
Include sensory stimulation tools: Consider including sensory stimulation tools such as mobiles, mirrors, and music players to provide your baby with visual and auditory stimulation.
Keep it clean: Make sure to keep the nursery clean and free of dust and allergens.
Personalize the space: Add personal touches such as photos, wall art, and toys to make the nursery feel like a cozy and inviting space.